Let me first acknowledge the magnitude of the work you are doing. On behalf of every associate at First Community Bank, I'd like to offer our sincere gratitude for your commitment to your employees, your clients and customers, and our community at large as we make our way through this COVID-19 situation. It is no small feat to address all of the concerns that accompany this pandemic, and it must be noted these considerations are in addition to the pressures already inherent in operating a business. These are most certainly unprecedented times.
Second, I want you to rest assured we are here to support you. We have reconfigured our operational protocols to meet safety standards while allowing us to remain as responsive and agile as possible. Every First Community Bank associate joins me in our commitment to serving as your trusted partner, particularly in this time filled with so much challenge.
There will come a day when this pandemic will have passed and we will look back over these months to see the lessons. I am quite certain a great one for me will be the resilience of every business owner or manager who stepped up with courage, fortitude and the daily drive to keep things moving forward. I see it every day already, in every community we serve, where along with the front line and healthcare workers--to whom we owe so much--those leading small businesses are also true heroes. You are seeing to our collective health while keeping our communities viable.
For that, and so much more, we offer a sincere and humble thank you.
Sincerely,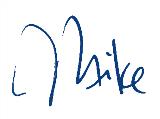 Mike Crapps, CEO
on behalf of the entire First Community family