Vaughan Dozier Recognized as 2020 S.C. Outstanding Young Banker
June 7, 2021 (Lexington, SC) – First Community Bank is pleased to announce that Vaughan Dozier, Lexington Regional Market President, has been named the 2020 S.C. Outstanding Young Banker by the South Carolina Banker's Association.
Dozier received the award—the highest honor presented in South Carolina's banking industry—during the SCBA's 2021 annual meeting on June 7, 2021. Due to COVID-19, the SCBA was unable to host its 2020 annual meeting and will also use this event to name the 2021 recipient.
This prestigious honor is chosen by the SCBA Past Chairman's Club and has been awarded to one deserving banker each year since 1970. Past recipients include many prominent South Carolina bankers, including First Community Bank CEO, Mike Crapps, and First Community Bank Columbia Regional Market President, Drew Painter.
"Vaughan's ability and character make him a wonderful asset to our bank and the community, and we are pleased to see his hard work recognized by the SCBA" said Crapps. "Vaughan is not only an outstanding leader in our industry, but an exceptional person, and we're honored to have him on our team."
With more than 15 years of industry experience, Vaughan joined First Community Bank in 2008 shortly after graduating with a degree in business administration with a finance focus from Presbyterian College. Vaughan is also a graduate of the South Carolina Bankers School and Leadership Columbia, an active participant in the SCBA Young Bankers Conference, and he currently serves on the SCBA Young Bankers board.
In addition to his role with the bank, Vaughan is an active member of Mt. Hebron United Methodist Church where he currently serves as chairman of the finance committee.
Vaughan's commitment to service also extends to his involvement in the community. He has served on the board of directors for several organizations, including Beginnings SC, River Alliance, Cayce-West Columbia Chamber of Commerce, the Presbyterian College Alumni Association and the Cayce-West Columbia Rotary Club, where he also serves as treasurer.
"Vaughan is an excellent example of our core values and beliefs, and we are simply thrilled that others see what we do," said Ted Nissen, First Community Bank President and Chief Banking Officer.
Vaughan and his wife Jen live in Lexington with their four children.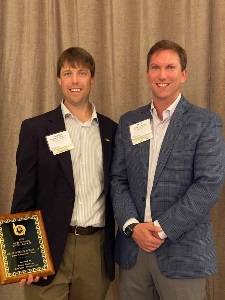 Vaughan Dozier (left) and Drew Painter (right)